You are here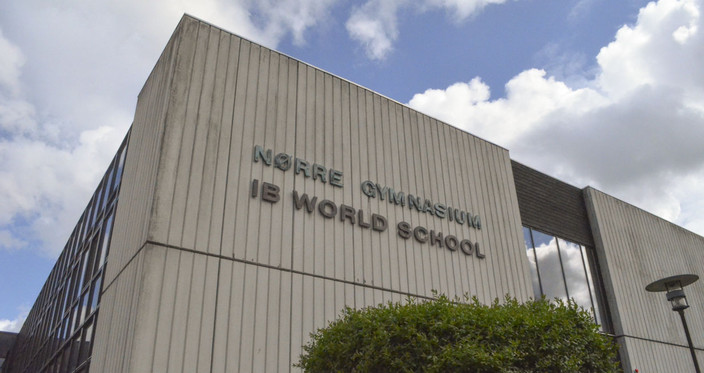 Nørre Gymnasium
Nørre Gymnasium - a short survey
NØRRE G is an upper secondary state school (day school; no boarding facilities) situated about 10 kms from the city centre with easy access by public transport. As a public (read: non-private) institution, it offers high school level education free of charge to students with a valid residence permit and CPR-number in Denmark.
The school offers two academic pre-university programmes for 15- to 18-year-old students : the Danish national "studentereksamen" (stx) and the International Baccalaureate (IB) Diploma. Currently, about 900 students follow the Danish programme, and about 200 students follow the IB programme which is taught in English. Nørre G has been an IB World School member since accreditation in 1990.
The school has a highly international atmosphere, partly because students represent more than 40 different nationalities and partly due to Nørre G's strong emphasis on intercultural understanding in both programmes. Most Nørre G graduates continue their studies at universities or colleges of higher education in Denmark or abroad.
IB students are both Danes who have returned to Denmark after several years abroad and foreigners with residence permit in Denmark. Students who have completed grade 11 at a foreign or international school or 1g of the Danish gymnasium, with excellent academic results and proficiency in the English language,  may be admitted directly to the two-year IB Diploma course (IB DP).
Applicants from grade 9 or 10 in foreign or Danish schools must start with a one-year preparatory course (called "pre-IB", which is also taught in English, but is not part of the trademark IB), which leaves the option of either continuing to the official IB Diploma Programme or switching to the Danish system (stx), either after an introductory period or the completed year. There are about 60 international students enrolled in this program in two classes.