You are here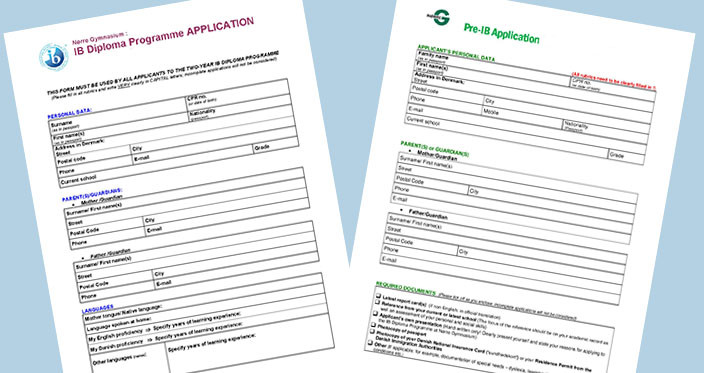 Application Forms
Application forms for the pre-IB and IB Diploma Programme: Find and download on the right hand side.
Deadline for application is 01 March of each year.
Applicants receive our response via email (!) to the address indicated on the applicant's form, approximately by the end of April.
Before filling in, please read the respective programme and subject information on the relevant page of the website in order to make informed/qualified choices: IB DP  "Pre-IB" - and to avoid misunderstandings and subsequent issues.
Please note for applications for the IB DP after the deadline 1 March: not all offered courses can be guaranteed any longer. Contact the coordinator to inquire about availability.
Applications with incomplete information/missing documents will not be considered or processed.
Copies of papers documenting the legal residence status in Denmark for the duration of the education must be enclosed.
PLEASE NOTE: It is the applicants' own responsibility to ensure the validity of their legal status in Denmark by contacting the official authorities!
Nørre G reserves the right to close an application at any stage in the process, including the initial acceptance, should a family fail to disclose relevant or requested information, or if it is discovered that Nørre G is unable to meet the educational, social, emotional or physical needs of an individual student.
NB! Ansøgere fra folkeskolen skal samtidig indsende sædvanligt ansøgningsskema til gymnasiet via Optagelse.dk og angive pre-IB Nørre Gymnasium som 1. prioritet. Se på Optagelse.dk (link i højre side). 
OBS: ansøgningsfrist er 1. marts (via den respektive folkeskole). Såfremt man ikke optages i pre-IB, videresendes den normale ansøgning til den skole, der ønskes som næste prioritet, og behandles på lige fod med alle andre ansøgninger til danske ungdomsuddannelser.